Menu
AXP176
Enhanced single Cell Li-Battery and Power System Management IC
Features
Description
Application
Diagram
Pin Configuration
FEATURES
· Battery Management
- Operation Voltage:
- 2.9V~6.3V (AMR:-0.3V~11V)
- Configurable Intelligent Power Select system
- Adaptive USB adaptor voltage/current limit
· Full-integrated Charger
- 1.4A charge current with built-in MOSFET
- USB-Compatible charger
- High precision as 1%
- Support 4.1V/4.15V/4.2V/4.36V battery
- Charging process control automatically
- Auto adjust the charging current according to the system load
· 1 Synchronous Step-Down Converters
- DC-DC1: can be adjusted between 0.7V~3.5V 25mV/step, load capability up to 1.2A
· 3 LDOs
- LDO1:30mA,always on
- LDO2:low noise LDO, 1.8V~3.3V adjustable, 100mV/step, load capability up to 200mA
- LDO3:low noise LDO, 1.8V~3.3V adjustable, 100mV/step, load capability up to 200mA
· Signal Capture
- Integrated multi-channel 12 bit ADC
- High accuracy coulomb counter and fuel-gauge system
- Provide the rich power management information including instantaneous power consumption(mA or mW),remaining power(% or
mA),charge status(%),remaining battery life and charge time, etc.
- Low power warning and protection
- Provide die temperature information
· Host Interface
- Two Wire Serial Interface(TWSI) for communication between the processor and PMIC
- Configurable interrupt management
- Integrated timer
- 4 groups registers for the data storage when system shutdown
· System Management
- Soft reset or hardware reset
- Support soft shutdown or hardware shutdown, and external wakeup
- Monitoring output voltage, self-diagnostic function
- Support PWROK for system reset
- External power source detection(insert/remove/lack of driving capacity )
- Self-protection: OVP,UVP,OCP,OTP
- Support OTG VBUS power state setting/monitoring
Description
AXP176 is a highly integrated power management IC(PMIC) targeted at single cell Li-battery(Li-ion or Li-polymer) applications that require multi-channel power conversion outputs. It provides an easy and flexible power management solution for multi-core processors to meet the complex and accurate requirements of power control.
AXP176 contains an USB-Compatible charger, 1 Buck DC-DC converter, 3 low dropout linear regulator(LDOs), multi-channel 12-bit ADC including voltage/current/temperature monitoring. To ensure the security and stability of the power system, AXP176 also provides self-protection circuits such as over-voltage protection(OVP), under-voltage protection (UVP), over-current protection (OCP) and over-temperature protection(OTP).
The 'Intelligent Power Select' (IPS)™ circuit of AXP176 distributes power safely and transparently among the USB, Li-Battery and the application system. It also allows application system to work normally when only running at the external input voltage and not the battery.
AXP176 has two input sources, including USB VBUS input and battery. AXP176 provides TWSI(Two Wire Serial Interface) to communicate with the application processor. Through the interface, processor can enable or disable the outputs, and set the output voltage, as well as get the power status and "fuel gauge" data, High-accuracy ADC makes it convenient for consumer real-time control and know the system power dissipation, which brings them wonderful experience of device electricity usage that never had before.
AXP176 is available in a 23-ball 2.61mm x 2.56mm WLCSP package.
AXP176 has a very tiny package, so it is well to use on wearable device such as smart watch, smart cup, and so on.

APPLICATIONS
· Portable Handset:
Smartphone, PMP/MP4, Digital Camera, Digital Camcorder, PND, PDA, PTV
· Mobile Connected Devices such as xPad,MID
· DPF, Portable DVD Player,Ultra Mobile UMPC
and UMPC-like,Entertainment and Education Machine
· Application Processor systems
· Other battery and multi-power systems

TYPICAL APPLICATION DIAGRAM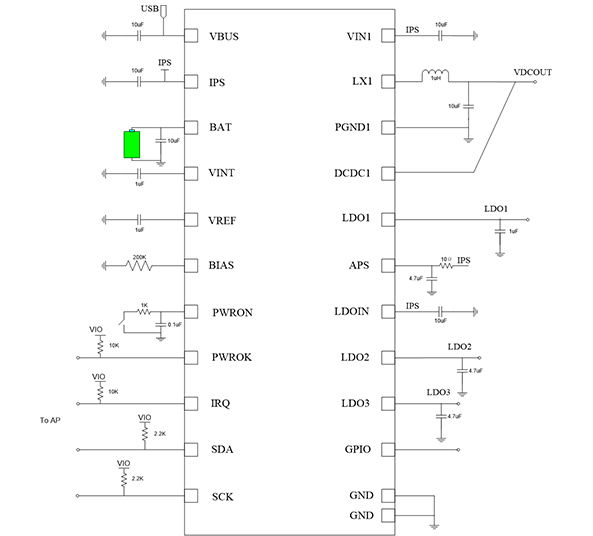 PIN CONFIGURATION