Menu
AC100
I2S/PCM Audio Interfaces Stereo CODEC with Capless Headphone Drivers for Portable Audio Applications
Features
Description
Application
Diagram
Pin Configuration
FEATURES
. 2 ADCs and 2 DACs @ 24-bit and inter PLL processing with flexible clocking scheme
· Up to 100dB SNR during DAC playback path
· Up to 95dB SNR during ADC record path
· Capless stereo headphone driver with 18mW@1.8V
· Mono differential earpiece driver(>65 mW/CH ,THD+N ≤ -70dB, 16Ohm Load)
. Two stereo differential speaker outputs
· Differential Line output with 1 Vrms full scale output voltage
· Five audio inputs
- Three differential analog microphone inputs with 30dB~48dB boost amplifier gain
- One mono differential or single-ended line-in input
- One stereo auxiliary input for external accessory connection
· Two low noise analog microphone bias
· Audio jack insert/ button press detection
· TWI/RSB control interface
· Three24-bit 8KHz ~ 192KHz I2S/PCM interfaces
· Support DRC for the DAC playback output
· SRC for synchronization between audio interface or digital audio data mixing
· Soft mute circuit for pop noise suppression
· Support digital microphone interface
· RTC and Three clock output
· 68pin ,8×8mm2QFN Package
Description
AC100 is a highly integrated audio codec and RTC subsystem designed for tablet and smart mobileapplication platforms. It has three I2S/PCM interface, 2 channels DAC and 2 channel ADC with a highlevel of mixed-signal integration. Three audio interface are available in order to provide independent and fully asynchronous connections to multiple processors, typically such as an AP processor, BB and BT transceiver.
An integrated digital PLL supports a large range of input/output frequencies, and It can generate requiredaudio clocks for codec from standard audio crystal rate such as 22.5792MHz and 24.576MHz, also can befrom common reference clock frequencies. The 2 ADC and 2 DAC in device use advanced multi-bit delta-sigma modulation technique to convert data between analog and digital . The SNR performance can reach 100 dB A-wight.
Five analog input paths allow diverse analog audio sources such as three sets of differential microphone,one differential or single-ended linein and one stereo FM input.
One ground-reference headphone output is provided. The output amplifier are powered from an integrated Charge Pump in order to achieve a higher quality, less power consumption in headphone playback, whist without any DC blocking capacitor and avoiding unwanted noise.
A mono, differential BTL drive amplifier is available for driving the handset receiver. Two stereo differential speaker output is available by using an external amplifier to drive the loud-speaker .It can also be configured as single-ended output pin for some application of external single-ended amplifier.
DRC function provide an useful digital sound processing capability in DAC playback path. It is used to attenuate the peak signals and boost the low-level.

APPLICATIONS
· Wi-Fi Audio Speaker & Audio equipment
· Tablets
· Smart Phone and Music phone

TYPICAL APPLICATION DIAGRAM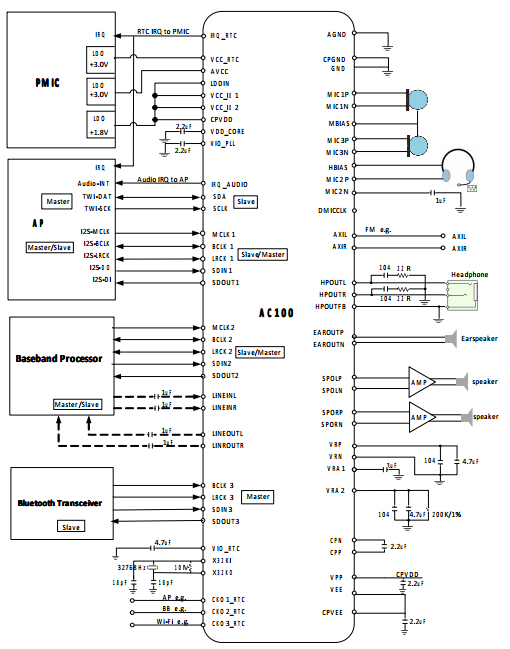 PIN CONFIGURATION