Menu
AXP228
Advanced PMU for Multi-core Application Processors integrated High-Accuracy Gas Gauge and Flash Charger
Features
Description
Application
Diagram
Pin Configuration
FEATURES
· IPS™
-Input voltage range: 2.9V~6.3V (AMR: - 0.3V~11V)
-Configurable IPS™ system
- Adaptive USB/AC adaptor voltage/current limit (4.4V/900mA/500mA)
· Flash Charger
-Integrated MOSFET charge current up to 2.2A
- Battery temperature monitor
- Fully supports USB charge
-High charge accuracy, ±0.5% accurency
-Supports 4.1V/4.2V/4.22V/4.24V battery
-Automatic charge control
-Supports LED to indicate charge status
-Automatic charge current adjustment based on system load
· Buck DC-DC Converters (5-CH)
- DC-DC1: 1.6V~3.4V adjustable, 100mV/step, load current up to 1.4A
- DC-DC2: 0.6V~1.54V adjustable, 20mV/step, load current up to 2.5A, supports VRC (Voltage Ramp Control)
- DC-DC3: 0.6V-1.86V adjustable, 20mV/step, load current up to 2.5A
- DC-DC4: 0.6V-1.54V adjustable, 20mV/step, load current up to 0.6A
- DC-DC5: 1.0V-2.55V adjustable, 50mV/step, load current up to 2A
· LDOs (14-CH)
- RTC_VCC: 30mA, always valid
- ALDO1/2: low noise LDO, 0.7V~3.3V adjustable, 100mV/step, load current up to 300mA
- ALDO3: low noise LDO, 0.7V~3.3V adjustable, 100mV/step, load current up to 200mA
- LDOIO0/LDOIO1: low noise LDO, 0.7V~3.3V adjustable, 100mV/step, load current up to 100mA
- DLDO1/ ELDO1: 0.7~3.3V adjustable, 100mV/step, load current up to 400mA
- DLDO2/ DLDO3/ ELDO2/ ELDO3: 0.7~3.3V adjustable, 100mV/step, load current up to 200mA
- DLDO4: 0.7V~3.3V adjustable, 100mV/step, load current up to 100mA
- DC5LDO: 0.7V~1.4V adjustable, 100mV/step, load current up to 200mA
· Switch (2-CH)
- DC1SW: internal resistance 100mOhm, power sourced from DCDC1
- CHGLED:100mA sink strength, can be used to drive the motor and charging LED
· Host Interface
- P2WI (Push-Pull Two Wire Interface) for host communication
- Configurable interrupt management
- Flexible pin function configuration: 2 GPIOs can be set as IO or LDO, etc
- Integrated timer
- 12 groups of registers for system shutdown data storage
· E-Gauge™ System
- Highly accurate gauge system with dual modes
- Easy Mode: highly adaptive to different Powers
- Exact Mode: highly accurate data is provided for specific power
- Provides rich power information, such as instantaneous power consumption (mA or mW), remaining power (% or mA), charge status
(%), remaining power life, charge time, etc.
- Low power warning and low power protection
- Provides die temperature
· System Management
- Supports soft reset and hard reset
- Supports soft shutdown and hard shutdown
- Supports external wakeup triggers
- Supports PWROK for system rest or shutdown indication
- External power detection(insert/remove/drive strength deficiency)
- All output voltage support software boot
- Over/Under-voltage protection (OVP/UVP)
- Over-current protection (OCP)
-Over-temperature protection (OTP)
· High Integration
- Highly accurate (0.5%) reference voltage
- Integrates MOSFET
Description
AXP228 is a highly integrated PMIC targeted at single cell Li-battery (Li-ion or Li-polymer) applications that require multi-channel power conversion outputs. It provides an easy and flexible power management solution for multicore processors to meet the increasingly complex and accurate requirements of power control.
AXP228 comes with an adaptive USB3.0 compatible Flash Charger that supports up to 94% efficiency and 2.2A charge current. It also provides 21 power output channels (including 5-CH DCDC, with efficiency up to 95%). To ensure the security and stability of the power system, AXP228 provides multiple-channel 12-bit ADC for voltage/current temperature monitoring and integrates protection circuits such as OVP, UVP, OTP, and OCP. Moreover, AXP228 integrates a unique E-Gauge™ system which simplifies battery power measurement.

In addition, AXP228 contains a fast interface for the system to dynamically adjust output voltage and enable work mode switch in order to optimize battery life.
Importantly, AXP228 also features an IPS™(Intelligent Power Select) circuit that transparently selects power path among USB, external adaptor, Li-battery, and system load, allowing the system to function normally when only running on external input power and not the battery.
AXP228 is available in 8mm x 8mm x 0.75mm 68-pin QFN package.

APPLICATIONS
· Tablets, smartphones, smart TVs, DVRs
· UMPC and UMPC-like, student computers

TYPICAL APPLICATION DIAGRAM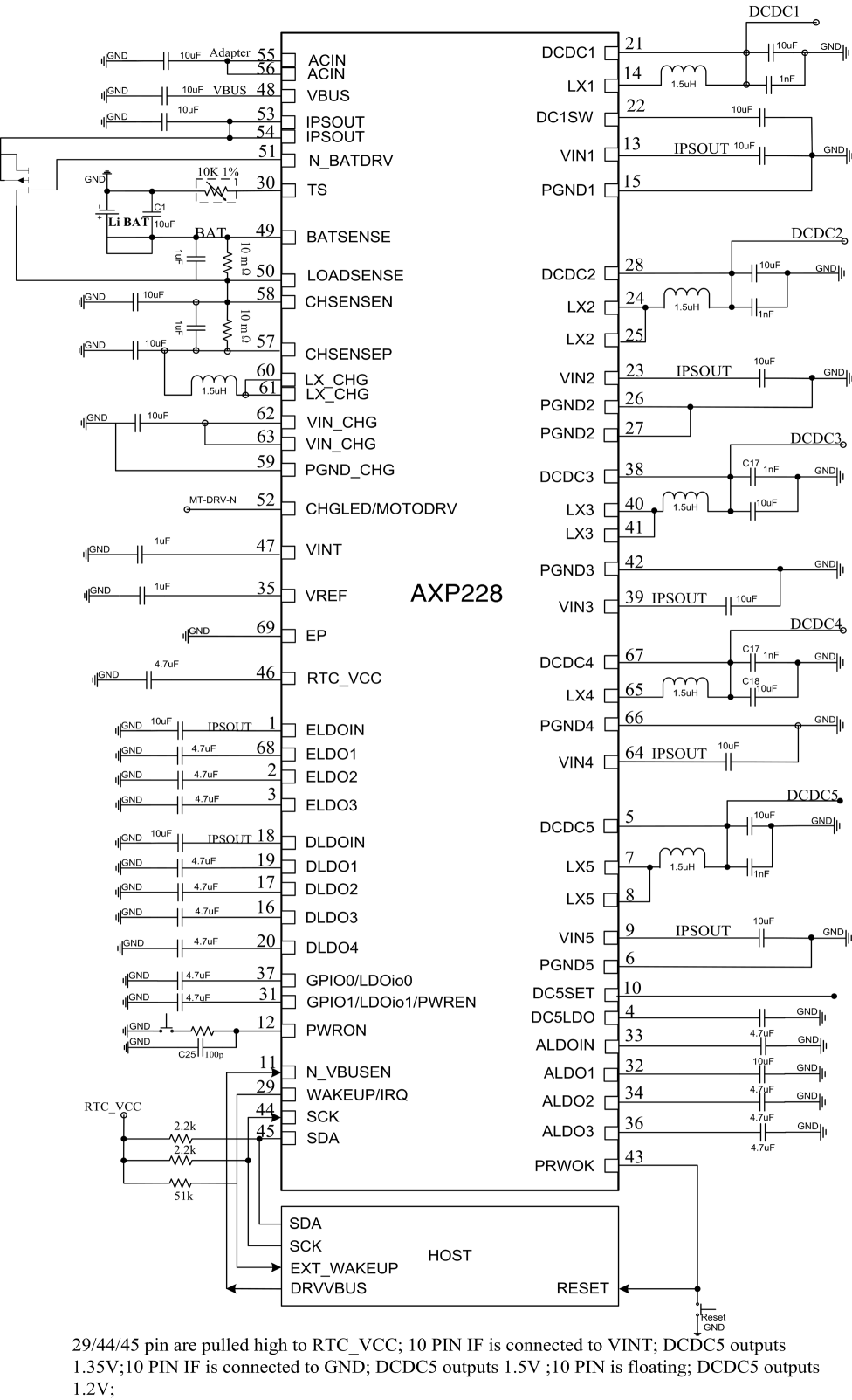 PIN CONFIGURATION