Menu
AC102
High Performance and Low Power Mono Audio Codec
Features
Description
Application
Diagram
Pin Configuration
FEATURES
Mono ADC with 101dB SNR (A-weight)
Mono DAC with 105dB SNR (A-weight)
8~48kHz Playback and Record
110uA Low Quiescent Current
< 3mA Mono 48ksps ADC Record with microphone
< 3mA Mono 48ksps DAC Playback with line-out
Programmable Microphone Bias 1.81V~2.39V
Integrated ALDO and DLDO
Support Single 1.8V or 3.3V Power Supply
3mm x 3mm QFN20 Package
Description
The AC102 is a low-power, high-performance, mono audio CODEC optimized for portable applications. The device integrates one fully-differential analog microphone input and one mono line-out driver.The mono 24-bit multi-bit sigma-delta ADC has programmable gain with automatic gain control (AGC). A multi-bit sigma-delta DAC is used with digital audio input word length from 8 to 24 bits and sampling rate from 8 to 48kHz. The parametric Equalizer consists of 3-band EQ for playback path. Gain, center frequency, and bandwidth of each band EQ can be programmed independently to compensate frequency response of speakers, and to meet various user preferences.
The AC102 provides many formats of serial audio data interface to the input of the DAC or output from the ADC through LRCK, BCLK and SDIN/SDOUT pins. These formats are I2S, left justified, right justified, PCM mode.
The AC102 is controlled through TWI (2-wire serial interface). The clock supports up to 400 KHz rate. It works only in the slave mode.
It is packaged in 3mm x 3mm 0.4mm pitch, 20-pin QFN package and specified from -40 °C - 85°C.

APPLICATIONS
Portable audio applications
Digital Cameras and video cameras
Tablets and e-Books

TYPICAL APPLICATION DIAGRAM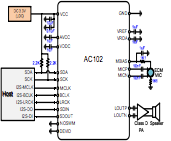 PIN CONFIGURATION